BECOME A MEMBER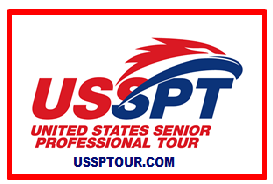 Assumption of Risk and Release from Liability:
By registering and competing in a United States Senior Professional Tour (USSPTOUR) event, the participant understands and agrees that there are certain dangers involved with the participation in a golf event, including but not limited to being struck by lightning, getting hit by a golf club/ball, suffering from heat exhaustion, heart attack or injury from uneven terrain among others, for which the player assumes and solely accepts all risks, and waives all claims of injury to body or property against the USSPT and its staff.
Further, the participant agrees that while on the premises of a USSPT event, as well as all other presenting sponsors, co-sponsors and representatives affiliated with the tournament, the participant, and any guest, relative or anyone else affiliated with the participant, shall be present at their own risk and that the USSPT, and/or Tour staff shall not be liable for any claims for injuries or damages whatsoever to the person or property of the participant or related person arising out of, or in connection with the participation in the event or presence at the event. Participant agrees to indemnify and hold harmless the USSPT and any Tour staff from all claims by or liability to participant or affiliated person.
Participation Agreement
By registering and competing in a USSPT event, player agrees to abide by the policies and rules established by the Tour. Failure to comply with the aforementioned rules and regulations could result in suspension or expulsion from the Tour.  Player also agrees that the use of photos and/or a likeness of any player is done so without further authorization and/or compensation. These policies are subject to minor modifications.  All changes will be noted as (Revised – "date").
UNITED STATES SENIOR PROFESSIONAL TOUR                         www.USSPTOUR.com
Tournaments throughout will feature a number of guaranteed minimum purses, with each guarantee set based upon participation.
Members will receive priority entry into each event, with non-members only gaining entry on a space-available basis following each respective entry deadline.
MEMBER INFORMATION & BENEFITS
Members must be 45 years of age or older.
-24  Proposed Tournaments throughout the 2020-2021 season.
-Guaranteed Minimum Purses at select events in the 2020-2021  season based on participation.
-Flexible schedule and tournament payment options
-Preferred tournament entry fees
–    First 45 elite yearly memberships will be sold at  $125.00.

–    Tournament entry fees   –   $300.00 for the 2020-2021 season
Registration Information for the United States Senior Professional Tour:
–     A player will not be confirmed in the field until their registration and payment have been received by the United States Senior Professional Tour.
–    The payment deadline for all Senior Sun Country Tour events is 5:00pm –  Friday the week prior to the tournament.  Players who wish to register after the Friday deadline will be charged a $50 late fee and are subject to acceptance on a space available basis.
–    All players are encouraged to register and pay online at www.USSPTOUR.COM
–    Tournament registrations and credit card payments will be accepted over the phone by calling Daniel Nunez – (575)937-5183.
–    A player may drop off a check in person or mail a check to  USSPTOUR.COM  Attn:  Daniel Nunez – P.O. Box 2779,  Ruidoso, NM  88355 – their spot will not be confirmed until their payment is received.
–    Text messages, emails and voice mails will not be considered as an official registration.
 FORMAT FOR TOUR EVENTS:
36 Hole Events:
All 36 hole events will be contested over  one or multiple golf courses.    Events will consist of  30/  60/  or  90 maximum fields.   Three set of tees:    45-49 years of age  7,000  yards   50-59 years of age 6,800 yards  60 and older  6600 yards Junior Division 44 and younger.    Open Division tees based on age.     10 maximum handicap.

Format of Play 
All events will be played as a stroke play competition, scored at gross unless announced otherwise. Tour play will be governed by the current Rules of Golf as approved by the United States Golf Association (USGA), and/or modified by Local Rule on the 'Notice to Competitors' prepared by the Committee.  Tour Officials and staff will be on site at every tournament to handle player check-in at the 1st tee, provide assistance, handle scoring/prize pools, monitor the pace of play and make rulings.  Any Tour Official may assess penalty strokes for rules infractions or slow play subject to review by the Committee.  All decisions made by the Committee shall be final.
To preserve the integrity of the game and our competitions, please be reminded that each player has the duty and responsibility to protect the field from questionable practices and any Rules infractions (Rule 1-3).  Any player who is doubtful as to the rights or procedure for either themselves or a fellow competitor will be required to invoke Rule 3-3, and seek clarification from a Tour Rules Official or the Director prior to signing their scorecard. Failure to seek clarification is grounds for disqualification.  Golf slacks must be worn at all USSPTOUR.COM events…      Shorts may be worn on practice rounds only…
Purses:
All 36-hole events will feature a purse of added money from National Sponsor,  plus an additional $500.00 for each event from the United States Senior Professional Tour.  
Comparative purses will based on number of entries to each specific tournament.  The more players register – the bigger the purses.   All entry fees up to 30 entries will be added to each tournament.
Eligibility:
PGA professionals and Non-PGA players will compete with at a scratch handicap-  gross scores only.   United States Senior Professional  Tour members will be allowed to sign up at any point on a first come , first served basis until Friday, the week prior to the event, at 5:00pm.  After this point, all Non-United States Senior Professional Tour members will be granted entry on a space available basis, in the order in which their entry was received.  Maximum field levels will be determined on each tournament site – 30/60 or 90 players.
Entry Deadline:
All contestants are asked to register at least one week prior to event date.    The payment deadline for a 36-hole event is Friday at 5:00pm  two days from the tournament date.  All contestants who have not paid their entry fee in full by the Friday deadline will be considered not entered and will be added to the waiting list.   Members and Non-Members may enter an event as far in advance as they wish.  The Non-Member waiting list will be built according to when payment is received.  Non-Members will be entered into events after the Friday deadline has passed in the order their payment was received.  Any Non-Member who does not gain entry into an event will be given a full refund or at his request will be placed on the Non-Member list for the next event.  Please note:  Once a player hits an official shot in an event, there are no refunds, regardless.  All players who sign up after the Friday deadline will be charged a $50.00 late fee.  Players can check the field list online to make sure that they are entered into an event.  It is solely the responsibility of the player to know whether or not he is in the tournament field.  There will be no exceptions to this policy.
Payment Options:( Payment Center – USSPTOUR.COM website) 
All players must pay using a credit card or debit card on the USSPTOUR.COM website.  
Should you face difficulty with this process, you may send a check to: Must be received one week prior to event.

United States Senior Professional Tour
Attn:   Daniel Nunez 
P.O. Box 2779
Ruidoso, NM 88355
Any returned checks will result in a $50.00 returned check service fee and loss of check writing privileges.
All U.S. residents, or any players who intend to file 2018-19  tax returns, are required to have a W-9 tax form, 
Form W-8 (for non-resident aliens) on file with the United States Senior Professional Tour
NO SHOW / WITHDRAWL   POLICY
No-shows will not be tolerated.  Any player who no-shows for an event will forfeit their entry.
–    A player may withdraw without penalty up until 5:00pm Friday the week before the event.
–    Players who withdraw after 5:00pm  Saturday will be considered a No-Show and will not be refunded 
     for any reason.  A life or Death circumstance will be the only situation that could alter this policy.
–    Withdraws must be submitted phone or text message to Daniel Nunez (575)937-5183.  No exeptions.
PRACTICE ROUNDS
–   All practice rounds should be completed in less than 4.5  hours.  Shorts may be worn…

–   Disclaimer:   players will abide by host course rules and regulations –  especially during inclement weather.
    Players should use their own discretion and are responsible for their own safety during practice rounds.
CLUBS AND EQUIPMENT POLICY:
Clubs must conform to USGA's established standards for all clubs and equipment.  Clubs must conform to the 
USGAspecifications. Failure to adhere to this policy will result in immediate disqualification.
A  PACE OF PLAY POLICY  WILL BE STRICTLY ENFORCED AS OF   11/1/16
Any player not playing within the specified 18 hole round  time  specified at each tournament site will be penalized for slow play.
15 minutes a hole will be the tolerated time for each hole played by a group.   Individual players will 
follow the guideline:     1. warning  –  no penalty       2.  Player placed on Clock     3.  One Stroke Penalty   4.  Two Stroke Penalty    5.  Disqualification.(no refunds due to slow play)
Pairing Policy
Pairings will be established using a players average score history.  If the average was not established from 2019 events the pairing position will be established from a 2018 average if available otherwise the player may be paired based on reputation or due diligence.  This policy does not necessarily indicate the position of the group in the field, be it Round 1 or Round 2, will always be the last group.
All events will be re-paired after each round.
Start Times and Starting
Tour events will utilize consecutive start times (straight or split tee).  Pairings will be by done using the Pairings Policy above.  Pairings will be published on the Tour website before the 1st round with a player only phone text sent thereafter advising of such.  Event players are responsible for knowing the contents of the phone text.
The Tour has adopted a "Balls in the Air" starting time format, play permitting.  All players must therefore be at their assigned starting point, ready to play, 5 minutes prior to the assigned starting time.  If they are not, they may be deemed to be in breach of Rule 6-3(a) – Time of Starting: The player must start at the time established by the Committee.  This is in effect regardless of whether or not the times are on schedule.  Rule 33-1 will also be in effect for all events whereas, if the player arrives at his starting point, ready to play, within five minutes after his starting time, in the absence of circumstances that warrant waiving the penalty of disqualification as provided in Rule 33-7, the penalty for failure to start on time is two strokes at the first hole instead of disqualification. "Ready to play" is defined as a player must be present on the teeing ground with a club and ball and ready to play when the 1st player of the group is instructed to play. The order of play is not relevant.
Scorecard Return Policy
Upon completion of a round and return of the cart, all players will proceed directly to the scoring table where scorecards will be returned to the player only after being signed by the marker at the table.  No player will gain possession of his scorecard for any reason prior to that time and at no time will any player leave the table with his scorecard.  All players must remain at the table until any and all doubts have been settled by the Committee and the score is verified, read back to the player and recorded by the scorer.  Once the score is recorded and a player has left the table, the score is considered returned. Note: Any player leaving the scoring table, or area, prior to all doubts being settled and scores being posted will receive a warning on their first occurrence and a no-card (Disqualification) on any subsequent occurrence for the balance of the season.  The stroke penalties will be assessed on their final hole played for that round.
 Play-offs
Only 1st Place ties will be determined by a play-off immediately after all scores are returned, posted and reviewed.  Prizes for all other place ties will be awarded according to policy. In the event the course is not available or a lengthy delay, more than 30 minutes, would prohibit a play-off to be completed in a timely fashion, the Tour will split monies for the positions in question.  Should a player who is in the play-off leave before the play-off, that player will be awarded the lowest finishing position from the tied positions. When more than two players are in a play-off and one or more players leave, the player(s) that left will be awarded the lowest finishing position(s) payout while the players that actually participate will be awarded the higher position payouts.  Example: There are four players in the play-off: A, B, C and D.  C and D leave the course for whatever reason.  A and B then play the play-off and are awarded 1st and 2nd place monies.  C and D are awarded 3rd and 4th place monies as a tie.
The format for playoffs has been revised for 2020-2021.  The format will now be a sudden death format until a winner is determined. Play will begin on a hole determined by the Committee.
New ordinances that will be added to our 2023 Hard Card on our Code of Conduct.   Due to unfortunate incidents in events in the last 3 years – the ussptour.com will now go to a monetary system of fines for violations on Code of Conduct during events.  This system will be conducted on a yearly basis and will restart after January 1st of every year.  Every single violation a player executes during their round of golf will be monitored.   A player's best behavior will be expected or a monetary fine will be issued by the tournament committee.  The following will be the designated procedures on violations during the course of play.
This is not per event!  This is from day one to the end of season!
  First violation –  player will receive a warning on the violation.

  Second violation –  $100.00  fine 

  Third violation – $250.00 fine

  Fourth Violation – $400.00 fine

  Fifth Violation – One Month suspension and a $500.00 fine

  Termination from the tour for one year and a $1,000.00 fine.

(Failure to pay violations will result in suspension from future events until fines are paid.)